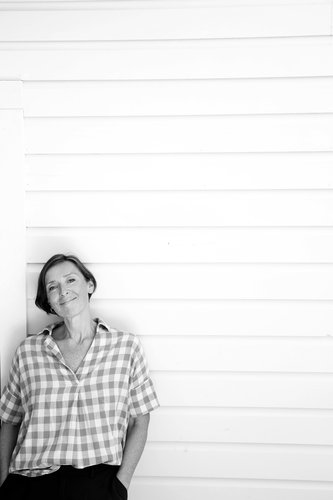 Nadia Stieglitz is drawn to creativity. She was raised in the French Alps, surrounded by a family that fostered a love of the arts and an appreciation of the natural surroundings. This upbringing together with her own creative nature prompted her to seek out and celebrate her need for artistic expression and innovation.
Her affinity for new ideas came at a young age. When Nadia was 12, she wanted to start a company called "La Boite à idées" ("The Box of Ideas") to help companies create new products and services. She carried this enthusiasm into her studies. Graduating in marketing and economics, she was determined to utilize her creative passions in her professional life. She moved to New York, got a job with a publishing house and worked her way up to the position of Publishing Executive. Managing and directing design, editorial and marketing teams, she produced a variety of entertaining printed projects, including hardcover coffee table books for
Atria Books
of Simon and Schuster.
She relocated with her husband and children to London and was offered the position of innovative consultant for
Kaos Consulting
in Paris. This opportunity afforded Nadia a chance to work side by side with professionals who accepted change and innovation as the norm. In this leading-edge think-tank, Nadia introduced creative concepts to an elite corporate clientele that included L'Oréal, Bourjois, and Galleries Lafayette. She managed global marketing, new product development, product naming, packaging, and positioning projects for these major companies.
Ten years ago, she returned to New York with her family and decided it was time to pursue another creative dream that had been long been close to her heart: painting. She rented a studio and signed up for a variety of art and design classes, including painting in oils and watercolor and computer classes in graphic design. She would eventually enroll in New York's prestigious Art Student League and expand her creative work to include photography.
Nadia considers herself an intuitive painter. An ardent follower of abstract art, she has developed her own refined and poetic vision of painting. Combining mixed media with the application of layers, she brings to life the beauty and harmony of forms, tones and movement. Her canvases capture a magical moment in time that both inspires and delights viewers.
Her biggest creative project is
Mice at Play, LLC
. Established in 2010, the company was designed to help women reconnect with the concept of play. She understands firsthand how the daily pressures and responsibilities of motherhood and professional life can encumber and overwhelm our sense of creativity and spontaneity. In an effort to rekindle this vital spark, Nadia organizes events to help women to reawaken their sense of adventure, fun and personal accomplishment. Participants are introduced to new experiences and challenges such as rock climbing, trapeze, burlesque dance, Japanese cooking, the polar bear swim, etc, giving them the opportunity to discover multiple talents and passions and learn new skills, all within a relaxed and supportive environment.
Since then, as a Play Expert, she has curated private corporate events and team-building experiences in the US for corporate clients.
"
I enjoy organizing creative events for private groups and/or corporations. Creating memorable moments that people can share with others and that help them to feel good about themselves…for me this is a kind of art form we can live."
Her work has been featured in the New York Times, on Life Goes Strong/NBC Universal, WCBS-TV, Psychology Today and in the book "Overwhelmed: Work, Love and Play When No One Has Time" written by the Washington Post journalist, Brigid Schulte.
French Bio:
NADIA STIEGLITZ
, PEINTRE POETIQUE
Peintre autodidacte, Nadia Stieglitz est née à Grenoble en 1964 et grandit dans une famille cosmopolite de culture artistique. Cet héritage ainsi que sa nature créatrice et esthète la guideront tout au long de ce qui s'apparente à une quête dédiée à la célébration de la nature par l'expression artistique. Imprégnée dès sa plus tendre enfance, elle s'investit d'abord dans l'amour de la dance, puis dans les arts plastiques.
Voyageuse dans l'âme, Nadia Stieglitz part très jeune à la découverte de nouveaux horizons. Elle parcourt le monde avec un œil attentif à chaque représentation de sa beauté et de sa richesse. Photographe amateur, elle ramène de chacun de ses périples des clichés qui traduisent son sens de l'esthétisme dans l'art visuel. Déterminée à conjuguer carrière et passions, elle devient Directrice Creative auprès de maisons d'editions, puis consultante en créativité et innovation ce qui l'amène à vivre à Paris, Londres et New York.
Repartie s'installer avec sa famille à New York depuis 5 ans, elle loue un atelier pour réaliser ce projet qui lui tient à cœur depuis longtemps : Devenir peintre. Elle suit des cours de techniques allant de la peinture à l'huile au Graphic Design, et s'inscrit à la prestigieuse Art Student League à New York.
Emue par l'art abstrait, Nadia Stieglitz simplifie de plus en plus ses compositions et met sa technique au service de sa vision épurée et poétique de la peinture. Elle suggère et illustre, juxtapose et met en scène sa perception du beau au naturel, se concentrant sur l'harmonie des formes et des tonalités. Dans ses toiles, rien n'est figé; pourtant le temps est suspendu, comme happé par l'œil du peintre emprunt de poésie et de tendresse.
La peinture de Nadia Stieglitz a ceci d'unique : un style, une atmosphère. Elle nous laisse découvrir un univers harmonieux qui transcende la toile. Interprète de son environnement, Nadia Stieglitz laisse son imagination vagabonder sur ce qui l'entoure : sujets familiers, paysage, végétations, détails d'un décor urbain hétéroclite. Son regard zoome au coeur de la tâche d'humidité formée sur un mur, de la nervure d'une feuille, d'une myriade de gouttelettes glissant sur la vitre. Sa peinture en extrait la danse des arabesques, l'enchevêtrement des zébrures qui repartiront plus loin, l'infini des nuances ou l'audace d'un contraste qui semble tout à coup vital. Partout où son regard s'arrête, le jeu des couleurs est réinventé. Comme si son pinceau n'était là que pour démontrer la connivence entre les mondes minéral, végétal et le regard de l'artiste.
www.nadiastieglitz.com